The United States is facing a heat wave as temperatures across the country peaked over the weekend. Parts of Canada have also been affected, as the weather is expected to impact over 200 million people across North America.
New York City was forced to cancel its New York City Triathlon for the first time in seven years due to the high temperatures. The OZY Music Festival was also cancelled. Many cities across the East Coast and Midwest faced power outages as a result of stormy weather.
Major League Baseball teams in Cleveland, Chicago, and New York City tried to cope with overly warm games nearing triple digit temperatures by misting fans with cool water, monitoring players for heat illnesses, and giving teams the day off from batting practices.
The recent heatwave is just another example of a trend of warming that began in June when meteorologists recorded the hottest June on record worldwide. In early July, Anchorage, Alaska recorded its hottest day ever.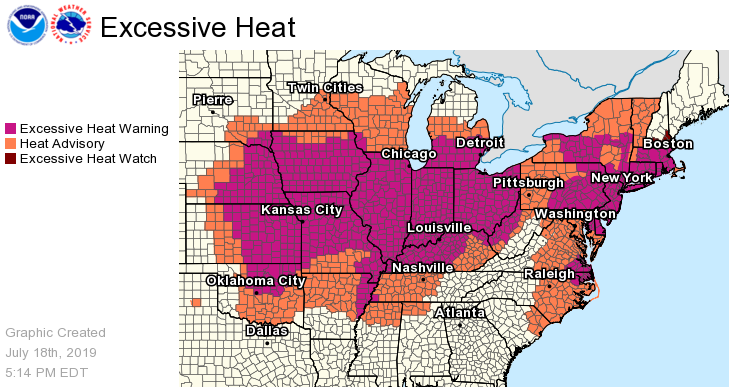 New York City's high temperatures forced Mayor Bill de Blasio to issue "a local emergency due to the extreme heat" in the city.
As a result, cooling centers were opened across the city. Similar facilities have popped up in Detroit and elsewhere to help citizens cope with the extreme heat.
In Canada, heat warnings have been issued for parts of the provinces of The Canadian provinces of Quebec, Ontario and Nova Scotia were also on alert for high temperatures, as Toronto was expected to feel like 104 degrees with high humidity.
To combat the heatwave, experts encourage everyone to stay hydrated and to remain indoors as much as possible.
Dr. Jon LaPook spoke to "CBS Weekend News" and encouraged those affected by the heatwave to be on the lookout for dizziness, a quickened pulse and nausea, as they are signs of heat sickness.
"First thing in the morning, have a glass or two of water just to get ahead of the game," LaPook told viewers.
"You can lose a ton of fluid and electrolytes through your sweat," LaPook said. "That's generally a good thing. The more humid it is, the less efficiently your body is able to sweat but if you stop sweating altogether, that could be a bad sign and it means you're very dehydrated and you're not able to have enough water to sweat."