From the Associated Press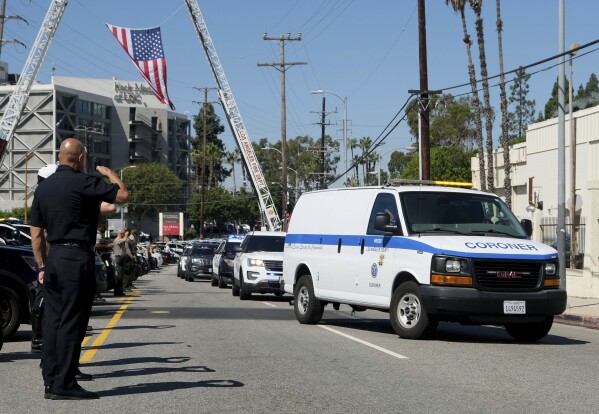 CARSON, Calif. (AP) — A Southern California police officer who was a hero of the 2017 Las Vegas mass shooting died Wednesday when his motorcycle was hit by a car on a Los Angeles-area highway, authorities said.
Manhattan Beach Police Officer Chad Swanson was likely heading to work when the collision happened shortly after 5 a.m. on Interstate 405 in Carson, according to the California Highway Patrol.
CHP Officer Steve Carapia told reporters that it appears the car that hit Swanson's police motorcycle was initially struck by another vehicle that likely made "an unsafe lane change." Investigators are trying to determine if a fourth vehicle may have also been involved.
The Southern California News Group reported that Swanson, 35, died at a hospital. A second person was hospitalized with minor injuries.
Manhattan Beach Police Lt. Kelly Benjamin said Swanson was married with three sons.
"We're hurting, we're grieving," Benjamin said.
Swanson was in the crowd at the Route 91 Harvest Music Festival in Las Vegas on Oct. 1, 2017, when a gunman opened fire from a window of the Mandalay Bay hotel. Benjamin said Swanson helped get shooting victims and others out of the area.
Swanson was a 13 year veteran of the department and became a motorcycle officer in 2017, officials said.